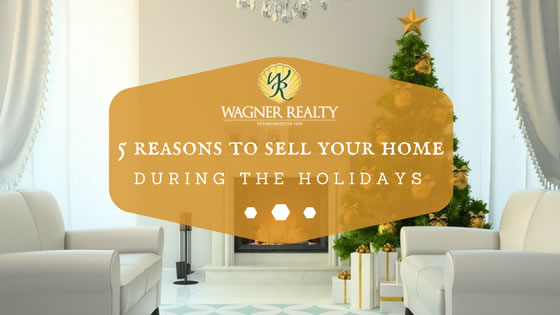 The holidays are not only a time of good cheer but a great time to sell your home too. If you're planning to relocate, putting your home on the market during the holidays can be less of a hassle and more lucrative than you think.
Less Competition
Many homeowners don't want the hassle of selling their home at the holidays; consequently, there are fewer homes on the market. If you decide to sell your property during the holidays, you'll have less competition. Fewer homes for sale overall means more buyers touring your home.

Another plus is being able to sell your home for asking price. When there's less of a selection, buyers will be more willing to buy at the price you've set because of the shortage of comparable homes on the market during the holidays.


Motivated Buyers
Buyers who take time out of their schedule to go house hunting are usually serious about buying a new home. Maybe they've been looking for months and just haven't found that perfect home yet. They may be relocating to start a new job or want to buy before year-end for tax reasons. Keep your home in showing-ready shape and be flexible about when people can come take a look. Negotiations might not take long because many people who want or need to move right away are willing to pay a premium to get the buying and moving process out of the way quickly.


Your Home Is Decked Out
The lights, sights and sounds of the holiday season often tug on people's heartstrings. Take advantage of this by making your home cheerful, warm and cozy during showings. Clear the clutter and hang tasteful decorations that enhance your home's best features. That way, home buyers will be able to picture themselves celebrating in your home next year. While decorations are nice during the season, in January they're just depressing. Make sure to remove decorations as soon as the holidays are over.


Buyers Have Time Off
You may think that people are too busy to look for a home during the holidays, but many buyers have more time to search because they have holiday and vacation days off from work. Also, if they're looking for a home as a family, children and college students typically have a break from school for a few weeks in December.


The New Year = Time Of Chang
Many businesses in the United States hire people at the start of a new year. Typically, people who are relocating due to a new job want to find a home and close on it quickly. While this may cause you some stress, it is usually worth it in the end. Motivated sellers who need to find something fast are also more open to paying a higher price.
This could be the right time to sell your home. CONTACT US to learn more about selling your home.